The popularity of Jet Ski and other personal watercraft (PWC) has continued to grow over the last few years.
This is because more and more fishermen consider PWCs as good off-shore fishing companions.
If you are planning to buy a jet ski for sports, fishing or other recreational purposes, there are things that you need to think about before your purchase.
One pre-purchase consideration should be where you will store your water vessel after use and if a jet ski dock would be suitable for you. You might be thinking, "How about the old boat trailer?"
Advantages of Using a Jet Ski Dock
Your Jet Ski is protected
A jet ski dock helps you keep your PWC in tip top condition and prevents the jet ski from the wear and tear associated with launching and retrieving from the water.
Jet ski dock protects the hull of the jet ski getting damaged by shellfish and other marine plants, which will happen when the PWC is left parked on the water. A jet ski dock will keep your investment dry, safe and protected.
Easy loading and launching
Jet ski docks will give you a smooth and hassle-free loading and launching experience. This is much safer and easier than trying to launch from a boat trailer, which requires a ramp and fine precision to prevent any damage to the PWC.
A jet ski dock is more convenient to use and can carry all PWCs of any size both on saltwater and freshwater.
Types of Jet Ski Dock
Now that you know the benefits of jet ski docks, you also need to learn about the different types; the lift dock and drive-on dock.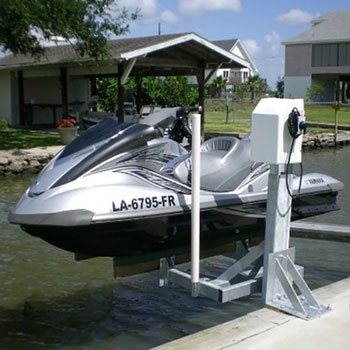 This type of dock hoists the PWC up when storing near the port so that it is safely out of water's reach. There are different types of Jet Ski lift dock including mounted, freestanding, pile, rotating, and drive-on.
The advantage of this jet ski dock is you will be assured that your PWC will remain dry, no matter how high the water goes up. However, a lift dock can only store one jet ski at a time.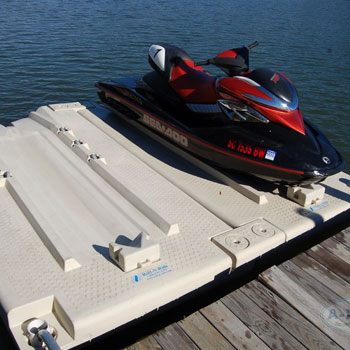 A drive-on jet ski dock is more expensive compared to a lift dock, but it is more convenient and much easier to use, and jet skis are much quicker to load and unload with it. You just have to drive the jet ski directly on to the dock or out to the water, and that's it. There is no need to lift up the dock because it floats instead on the water.
Drive-on jet ski docks are made of polyethylene resin or plastic and are filled with foam inside, enabling them to float. They are very durable and low-maintenance. They won't rot and rust, and you can walk on them without slipping.
Drive-on docks have rollers, which will protect your PWC from scratches. They are ideal for clubs, centers, restaurants, other waterside properties because there are drive-on docks that can carry multiple PWCs. The only downside of it is being unsuitable on wavy waters.
Invest in a Good Jet Ski Dock
Purchasing a jet ski dock is a good investment if you want to take care of your PWC.Whether you are leaning towards a lift dock or a drive-on dock, it's much better to get a new one.
Think twice about purchasing second-hand docks because you will get more benefits with a new dock, just like a warranty of up to seven years.
Make sure that you get a quality product so that your jet ski is safe no-matter the condition of the water.
Need Jet Ski Finance?
At Aussie Boat Loans, we can offer you low interest rate jet ski loans with fast approvals. If you are interested in getting a loan for a PWC or Jet Ski, we can tailor a finance package to include your trailer or Jet Ski dock.
Apply now and we can get you out on the water in no time at all.
For more information, call us on 1300 889 669 or submit an application online.