There are many different types of boat engines circulating the market. Each suited for different types of boats and different types of useage. Boat engines also have varying advantages and disadvantages that can greatly affect your experience on the waters.
To educate you further on the different types of boat engines on the market, here's a quick guide for your reference when choosing the next one for your boat.
Outboard engine
An outboard engine is a self-contained motor that includes a propeller and gearbox. It's installed on the transom at the boat stern. Aside from giving thrust to move the boat forward, an outboard motor also serves as a steerer to control the boat's direction of movement.
One advantage of mounting an outboard engine is easy maintenance. Since it's self-contained, the outboard engine is easier to clean compared to other types of boat engines. You can also tilt the outboard conveniently depending on the depth of the water to avoid damaging it.
More importantly, having an outboard engine will give you more transom access, making it an ideal engine for fishing boats. However, having this type of boat engine means you will not have a full swim platform to utilise.
Read our article about the 'Big Changes to Laws About Outboard Motors Coming Soon'.
Inboard engine
Boats used for water sports should have an inboard engine. It's considerably heavier than outboard motors and found inside the hull under the transom. It's connected to a drive shaft, which is angled down towards the water where the propeller is attached. Behind the propeller is a rudder for steering.
The position of an inboard engine makes it safe for water skiers and wakeboarders and prevents them from hitting the propeller whenever they get too close to the boat. An inboard engine can also make consistent track for the skiers or wakeboarders.
A downside of inboard engines is less convenience in accessing the motor for maintenance and repair. Since it's cramped in a compartment inside the hull, reaching the engine is harder compared to outboard engines.
Inboard engines are classified into two types: the straight shaft inboard and V-drive inboard. The straight shaft inboard engine is used by most boats and is placed in the hull's middle part, facing the rear end of the boat. Meanwhile, a V-drive inboard is positioned at the back end facing forward. This type of propulsion system allows more cabin space and additional seating.
Another classification of inboard engines is by the type of fuel it uses. There's a diesel inboard engine, which is typically heavier and bulkier, so you usually see it in larger boats; and there's the gasoline inboard engine, which is widely used in a variety of vessels worldwide. The designs of these engines are quite similar, only the diesel inboard is a bit more complex.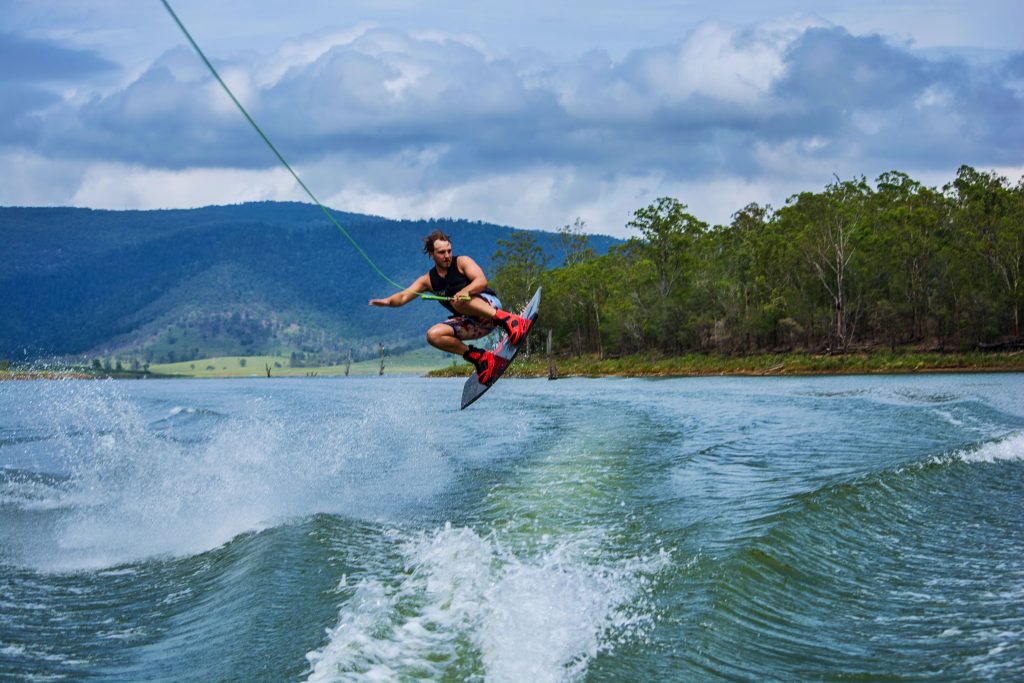 Stern Drive Engine
Also known as inboard/outboard (I/O), a sterndrive engine is a combination of outboard and inboard engines. Its engine is under the transom just like an inboard engine, while the drive unit is under the swim platform as with an outboard engine.
A sterndrive engine is best for shallow waters because there is no gear under the boat. But just like with outboard engines, the exposed portions of the drive system are more prone to damage and rusting. On the other hand, the hull compartment is at risk of fire from the trapped gas vapor. If your boat has a sterndrive, it's important to use a blower on the engine to prevent this accident from happening.
Jet Drive Engine
A jet drive propulsion system is often associated with personal watercraft (PWC) like Jet Ski and Waverunner but it's also installed on a number of modern boats. The jet drive itself is placed inside the engine's housing called the impeller. Water is pulled by the drive system from under the impeller then is forced towards the rear, creating thrust to move the boat.
A jet drive system requires neither a propeller blade nor a large space to house it. This means more room for boat builders to work on and include additional boat features. This type of boat propulsion system is very attractive to boaters who like high-performance vessels. Although, higher fuel consumption and loud noise are expected as a tradeoff for the agility on the waters.
The Future of Boat Engines
Much like the automotive industry, the boating sector is also trying to find innovations that will make the propulsion systems non-fuel based. That's why going electric is the most likely future of boat engines and many companies around the world are already on it. The German brand Torqeedo now has a full range of alternative propulsion systems that include electric outboard and inboards, as well as hybrid marine engines.
Volvo Penta, a Swedish company, is also another manufacturer that's developing hybrid boat engines, which are expected to be more eco-friendly, less noisy, and more efficient compared to fuel-powered engines. For these new electric boat engines to be successful, however, larger batteries and more charging stations will need to be developed as well.
Aussie Boat Loans
With this quick guide on boat engines, your next boat purchase will be easier knowing which propulsion system is best for your boating purposes. Whichever type of boat and boat engine you choose, it's best to get a pre-approved boat loan before your trip to the dealership. Aussie Boat Loans can help you get one.
Aussie Boat Loans can help find the right boat financing for you. Whether you're buying a watercraft for recreation or business purposes, we can provide the best loan product with the most competitive rate and great deals.
Call Aussie Boat Loans now at 1300 889 669 or enquire online to get more information on our boat loan products. Start your loan application today, get a pre-approved boat financing in a few minutes, and ride your new boat sooner.
Want to learn more about boar engines? Read our other helpful article 'Everything You Need To Know About Outboard Engines'.
Photo by dreamstime.com on Pintrest.