Financing A Jet Ski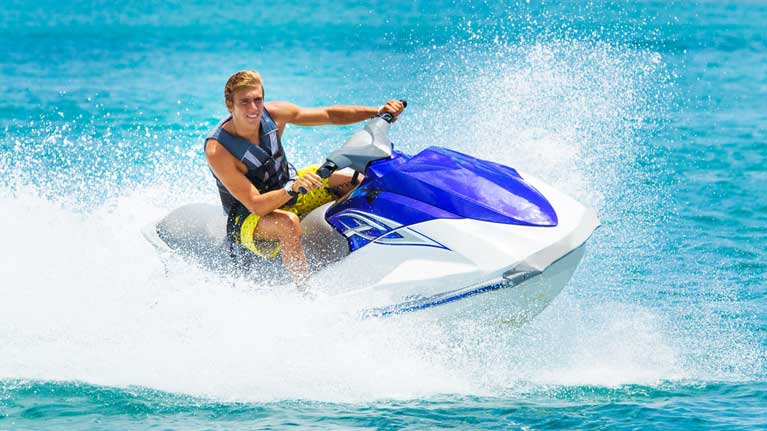 At Aussie Boat Loans, we want to help you get out on the water in whatever vessel you're hanging to purchase. That's why we provide finance for all types of marine vessels not just boats. This means we finance jet skis, Sea-Doos and other personal watercraft.
Aussie Boat Loans has a direct association with a trusted marine finance lender. This means we can negotiate and secure very competitive jet ski finance rate for you. The best bit is we do all the legwork.
We can finance brand new jet skis as well as used. We can finance a jet ski whether you're buying privately, from a dealer or at auction. We'll finance all major PWC brands including:
Sea-Doo Watercraft
Yamaha Waverunners
Kawasaki Jet Skis
More Information About Jet Ski Loans
In most cases, jet ski loans don't require a deposit, and you have a variety of options and features including:
You can take out a jet ski loan for a period of up to five years.
Borrow $5K - $70K for a new or used jet ski.
Interest rate is fixed for the term of the loan.
Pay weekly, fornightly or monthly.
Make extra payments.
Finance for private jet ski sales, dealers and auctions.
Buy at jet ski of any age.
Jet Ski loans have a fixed interest rate. This means the interest is calculated on the unpaid balance daily, like a home loan. Extra payments will reduce the outstanding balance. This will in turn reduce the interest charges.
Additional repayments will also shorten the loan term and reduce the total cost.
Use our jet ski loan calculator to see how changing your repayments can change the length of your jet ski loan
Jet Ski Trailer Finance
You're going to need a jet ski trailer to get your new toy to the water. This is why we can also help you finance a trailer for your jet ski. The cost of the trailer will be included the total loan amount so you'll be set to get out and into the water.
Jet Ski Insurance
If you are financing your jet ski you will need to have it insured. This can be organised with a variety of different jet ski insurers. However, Aussie Boat Loans can help organise jet ski insurance as part the total cost of the loan. This can save you time and keeps everything simple with one repayment.
Extended Warranty
You might also want to take out an extended warranty to cover mechanical breakdown for your jet ski. This type of cover should cover most instances of unexpected mechanical failure. Whether it's new or used an extended jet ski warranty will cover the costs or major repairs, parts and labour. This extended warranty can be added to the total value of your jet ski loan.
Jet Ski Loan Protection
This consumer credit insurance covers your jet ski repayments if you are unable to work due to illness or if you lose your job unexpectedly. This helps to protect you in the case of unseen circumstances. Loan protection payments would be paid in addition to any other compensation entitlements. Loan protection can also be added to the total loan value.
Jet Ski Licenses
You will need a license to operate a jet ski in all Australian states except the Northern Territory. The regulations for obtaining a jet ski license are different from state-to-state in Australia. See below for information about obtaining your jet ski license in Australia:
So what are you waiting for? Contact us or apply online to get the ball rolling today
Jet Skis For Sale
We've compiled some of the more common sites to research when buying a jet ski*.
Boat Sales PWC Sales Category: Boat Sales is by far one of the largest marine vessel sales sites in Australia. They have an extensive range of personal water craft (PWC) from Honda, Kawasaki, MasterCraft, Polaris, Sea-Doo and Yamaha.
Gumtree's Jet Ski Classifieds: Obvioulsy a much beloved Australian classified website which has a large jet ski sales section. You'll find 100s of ads for second hand jet skis as well as dealers selling brand new PWCs.
Boats Online Jet Ski Sales: A modest selection of new and used jet skis, Sea-Doos and WaveRunners for private sale and from dealers.
Trading Post's PWC Classifieds: Maybe not as popular as the original paper version. You can still find a large number of PWC classifieds on the Trading Post website.
Jet Ski Buyers Guides & Helpful Information:
*Aussie Boat Loans does not endorse any of the websites/businesses linked too from this page. They are provided for interest sake and we always recommend doing your own research and arranging professional inspections before purchasing a jet ski, Sea-Doo or WaveRunner.