Seeing your options before actually buying makes the shopping experience more exciting. The chance to see the specifications, compare prices, performance or see what colours it comes in will get your motor running in no time, and help you find the best personal watercraft to suit your needs.
Without further ado, feast your eyes on our 5 great jet skies picks showcasing the best choices for beginners, those hankering for speed/performance and the budget conscious.
Sea-Doo Spark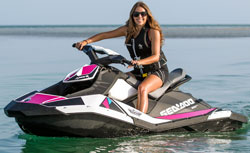 Sea Doo is a trusted brand for many watercraft enthusiasts so it's not surprising to know they came up with one of the best models for beginners.
The Spark is easy to maneuver and has off-throttle assisted steering. This is especially helpful when a novice rider abruptly turns to avoid an obstacle. Be that as it may, it is not advisable to rely solely on this safety feature. Nothing beats exercising caution.
The engine is 90 Horsepower and has a top speed is about 80 km/h. Perhaps you're thinking, it could use more speed, but for beginners and those riding with the family, 80 km/h is just about right.
The fuel capacity is 30 litres and it has a storage capacity of 1.5 litres, but for those who need more storage, you can upgrade it to 28 litres. The spark can also carry 1-3 passengers.
Price for The Spark is around $5,299, buying this jet ski is a real steal and perfect for your first watercraft.
Kawasaki Jet Ski STX-15F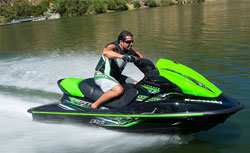 If you're looking for durability that comes with a good price, then this personal watercraft is something to watch out for. At 62 horsepower, the STX-15F can travel speeds up to about 100km/h.
Kawasaki constantly works to improve the performance of its units and tends to go for more simple, yet stylish designs.
Their machines have been known to be reliable for beginners and enthusiasts alike. It houses a 1,498 cc inline 4-cylinder marine engine that has efficient acceleration. The Jet Ski STX-15F also comes with a custom Kawasaki Smart Steering system that assists riders while maneuvering.
The STX-15F Jet Ski is moderately priced coming in at $9,700.
Yamaha FX Cruiser SVHO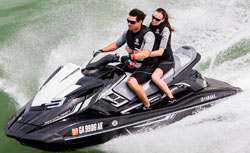 There is always a need for speed and Yamaha satisfied many with the FX Cruiser SVHO. The price isn't for the faint-hearted at $15,999 and some might argue it's too much. But Yamaha did not roll out a disappointment, instead, they served something that will knock your socks off.
Its top speed is a whopping 115km/h powered by its 4-cylinder 4-stroke engine under its 395kg chassis.
Maneuvering was made easy by the dual throttle handlebar that allows it to run forward and backward. It has simple cruise control so riders wouldn't tire of flicking their wrists the whole time. It can seat three people and has dual watertight compartments.
This is a high-performance watercraft that comes in at $15,999.
Kawasaki Jet Ski Ultra 310X SE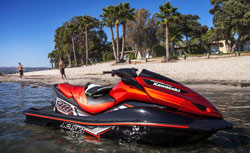 Not one to back down from a challenge, Kawasaki made sure they stay on top of the speed game when they released the Ultra 310X SE.
It can reach up to 160km/h after a few modifications and has an inline 4-cylinder marine engine with supercharger and intercooler.
No matter how exciting it may be to ride like the wind, you have to have enough practice to pull it off safely. Nevertheless, the unit has a great 5-way adjustable handlebars to make sure you have good control of your jet ski and it also has cruise control for when you want to maintain speed.
Last but not least, it has a whopping 210 litres of storage capacity.
The Ultra 310X SE is sold at around $15,799.
Yamaha Waverunner SuperJet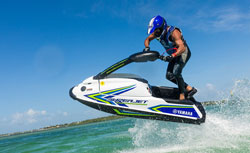 This is a very interesting watercraft in many ways.
First off, it is a stand-up jet ski that you probably do not see very much. Loyal fans, however, are not about to let it fade away.
Riding one is really a challenge and you must be licensed to do that. But that is what makes it exciting. It takes a certain amount of skill to be able to do this. So if you want to spice up your PWC experience, this could be the watercraft for you.
It has a 2-cylinder 2-stroke Yamaha marine engine. The top speed is 72km/h but it can accelerate extremely fast, making it fun to ride and catch the wake.
It is perfect for tricks, hop off waves and it's great just how it can be maneuvered easily.
The Yamaha Superjet is priced at $8,499.
Choose What's Right For You
Getting a jet ski seems like the next best thing when you're surrounded by beaches. With a healthy market, it isn't surprise makers release one good unit after the other. That makes choosing a personal watercraft more interesting.
There's nothing wrong with picking an expensive unit, but sometimes it means you're biting off more than you can chew. So, read up, look around, go for a test drive and find the perfect Jet Ski for you.
If you are considering buying a personal watercraft or Jet Ski, we can provide you with a competitive jet ski loan to get you started. Call Aussie Boat Loans on 1300 889 669 or apply online.